Last Updated: August 2017
Social networks were meant for sharing, but it is important to understand the audience with which you are sharing the information.
Facebook is the biggest social network on the planet. Much of its success is due to the amount of information it has on each of its users. Though they do have some tools to help you understand privacy basics, their settings can be complicated.
Below we have illustrated a complete walk-through to controlling your privacy settings. You can jump to individual sections or review the entire thing.
NOTE: Since each device's interface is different, we have used images from the desktop version of Facebook. This said, we highly recommend you use the desktop version to update settings because they are easier to access and have more options.
Facebook Privacy
Audience Options
For almost all pieces of information you can choose which audience it goes to. The options are as follows:
Public: Anyone with a Facebook Account regardless of relationship to you
Friends: Anyone you have added as a Friend
Friends Except Acquaintances: All friends except those who you have *manually* marked as acquaintances. This needs to be done within your Friend List by selecting individuals and then changing your relationship with them
Only Me: No one but you can see this.
Custom: Any kind of group you create and add people to. You have create a "Family members" grouper a group for people who all attended an event together.
NOTE: Both your current profile picture and your current cover photo are always public. To change settings on old profile photos or to hide comments, see Photo section below.
About – Basic Information, Workplace, and Location
Your About information can be found in the menu across your personal profile.
This section includes your personal information that identifies who you are, who you live, and how to contact you.
TIP: For safety reasons, ensure that you know who the audience is for each section. Change audience on anything you do not want seen publicly or by others
The most secure information is your Contact information. This can be altered within the Basic Information section.
Your birthday is divided in to two sections, one for date and one for year. The separation allows your Friends to know when your birthday takes place without telling them how old you are.
Tip: If you want to share your birthday, hide your birth year to "Only Me". This way you are not listing your full birthdate and limiting the chance of identity theft.

Your phone number can also be hidden. This is an access point for many services so consider limiting it.
Friend List
Your Friend List can be found in the menu across your personal profile.



When you Friend someone in Facebook the access goes both ways – you can see their information and they can see yours. Keep this in mind when you allow the connection.
Once you have become Friends, you appear on their Friend list and they appear on yours. Your friend list may reveal a lot about where you live, what you do, and who you are. Change the access to your friend list by selecting the Manage Button and choosing Edit Privacy.


As Facebook explains, you cannot control who see your friends' lists but you can control who sees yours. Make your selection here to limit the audience of this list.
NOTE: If your friends keep their list public then there are ways for people, and advertising companies, to see who you are friends with. This is how some webpages are able to say "your friends bought these items!"

Photos
Your Photos can be found in the menu across your personal profile.

Your Photo section is divided in to 3 areas:
Photos of You: Any photos you are tagged in regardless of who posted them.
Your Photos: Photos that you posted to Facebook
Albums: Photos organized by Album. You can create your own albums or use Facebook's provided Profile Photos, Cover Photos, Mobile Uploads, and Timeline Photos.


You do not have control over the photos that appear in Photos of You, only the fact that you are tagged in them. See the Tagging section below for information on how to untag yourself.
You can control the all of your individual photos. In your photo screen, you can select the Edit button and add information to the photo or remove it completely.
To change the audience, you need to open the individual photo and pull down the audience button  for that photo.
NOTE: For your current Profile Photo, changing the audience limits who can see your comments and likes but not the actual photo. Your Cover Photo  is optional therefore both the current photo and the comments/like are always public.
TIP: Go through old profile and cover photos to change the audience to something more limited than Public.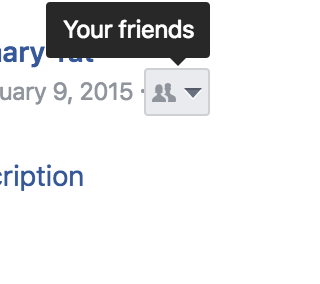 You can also control privacy at an Album level (for anything other than Profile and Cover photos). Selecting the Edit button on the album will give you the options.
Tags
Tagging is when someone attaches your name, and profile, to an image or status. You have the ability to control when and how you are tagged.
Visit your profile and select Settings from the menu.
The side menu on this page will offer you a category called Timeline and Tagging.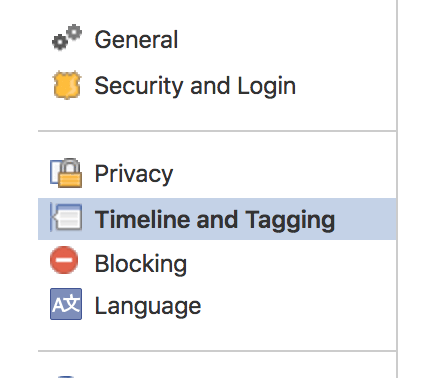 Here you can control who can post to your timeline and where tags are applied. Review each setting to make sure you are comfortable with the audience.
TIP: Alway set the Review posts friends tag you in before they appear on your Timeline to ON. You cannot prevent someone from tagging you but now you will be aware each time it happens.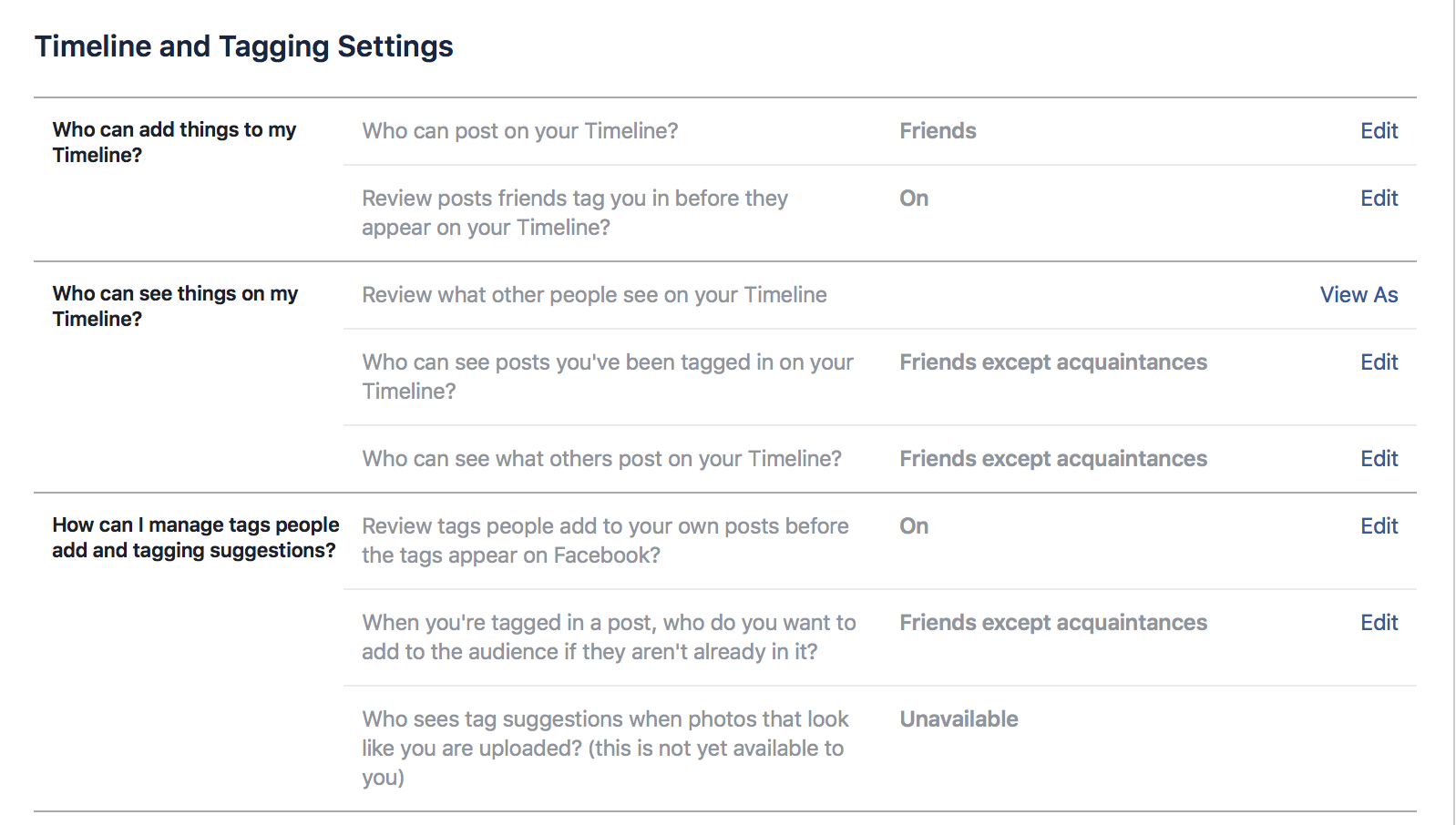 If you are tagged in something you do not like then you can remove the tag. Select the Edit button and scroll down to Remove Tag.
NOTE: The only two ways to have a photo removed from Facebook are by asking the poster to remove it or by reporting the photo. Photos that are reported are only removed if they breach a Term and Condition (something illegal, nudity etc). Facebook will not remove a photo because you don't like it or because you didn't give permission to have it taken.

Likes and More – Pages, Videos, Movies, Books
Your Like and More can be found in the menu across your personal profile.
The More section includes all your other information.
You can click on each section to control it individually or Manage Sections to control the full list.
The first 4 sections are mandatory (About, Friends, Photos, and Videos) but everything else can be hidden from your profile.
NOTE: Though you can hide the section, your public likes, reviews, and event attendance will all still be available on the pages on which they were made.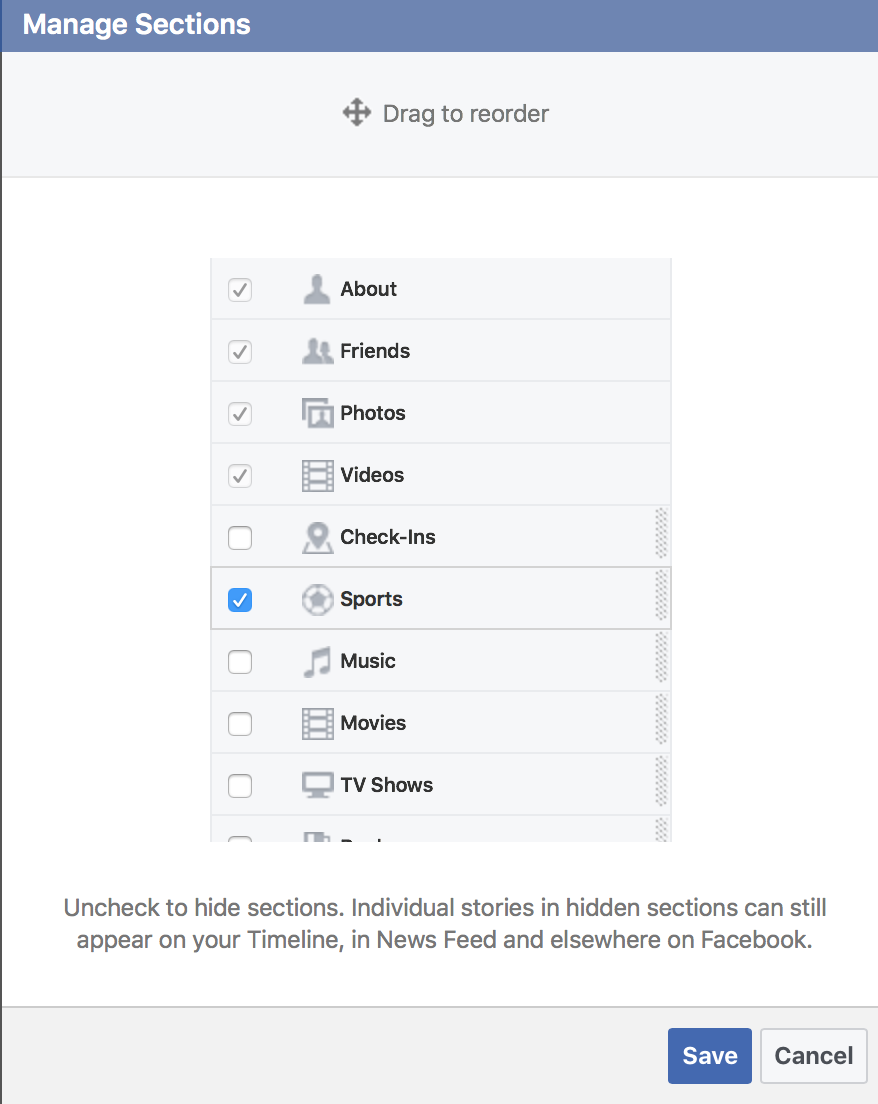 In individual Like sections you can chose to hide the section or edit the audience. These include Music, Books, TV Shows etc.
Select the audience for the section.

In sections where the items belong to another page, like Reviews, Events, or Groups, you cannot change the privacy, only hide the section from your timeline.
Verifying What Others See
The best way to verify settings is by selecting View As from your profile menu. You can select to see your profile as a stranger or as any person you are connected with.
You can also change the way people find your profile. Select the Settings from your main menu.
In the left menu you can select Privacy.
Here you can select who can search for you using your phone number, your email, and through search engines.
TIP: Unless you have a public profile for professional reasons, you should remove the Allow search engines outside of Facebook to link to your profile
Beyond what the public can see, Facebook also distributes your information to advertisers and partners. To find out more, read about how to alter the Facebook Settings that control access by third parties.