It's all fun and games online until you run in to a jerk, or in internet slang, a troll. Trolls are people who put up abusive or inflammatory posts with the intention of upsetting others or starting arguments. We can also expand the definition to include people that impersonate someone else online or post inappropriate content. Though the term "troll" is used differently than "cyberbully" (one who is intentionally attacking a specific person) the course of action is same when you find one.
All social networks and online forums are governed by their Terms and Conditions. Terms protect users from inappropriate posts (violence, nudity, harassment). They also include guidelines about scams, media ownership, and fake accounts. When someone breaches these terms or puts you at risk, you can and should report them.
Below are the instructions for reporting issues on the major networks. If you don't need this page today, bookmark it for later as a reference. In most cases, you can report on behalf of others as well as yourself.
NOTE: Always take screen shots of the offensive posts before you disconnect from the user in case you need 'evidence' of the trolling or bullying.
Quick links:
Instagram
Many Instagram accounts are public and so you do not require an Instagram account to file a complaint.
General Reporting
Link for reporting personal harassment or bullying
Link for reporting violations to their Terms and Conditions (i.e. nudity, harassment etc).
To Report a User
Visit the user's personal page and select the 3 dots to the right of their user name.

Select 'Report User' from the box that appears. You will be taken to the reporting screen.
You can also use this link to report if a user has posted a fake account in someone else's name.
To Report an Image
Open the image you want to report and select the 3 dots in the bottom right of the comment section.
Select the reason you are reporting the photo. You will be taken to a reason specific reporting screen.
Facebook
General Reporting
Link to report if you are being bullied, harassed or attacked by someone.
Report a Page
A 'Page' is managed by an entity which could be a business, club, group, or brand. This includes celebrities.
On the page itself, select the 3 dots on the right and 'Report Page'.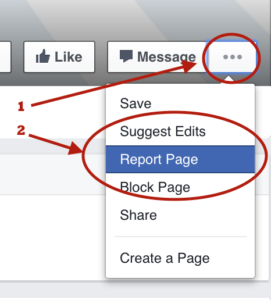 Select the reason. Facebook actually has many reasons which help them devise if the page is harmful to you, to all, or a breach of their business terms.
Report a User
A 'User' is a person who has a personal page about just them.
On the user's personal page, select the same 3 dots as the page but 'Report User'. For a user, Facebook allows you to both report someone doing something malicious as well as to help someone you may think is in trouble.
Offering to help a user brings up contact info and resources for protection on bullying, help for mental illness, and reporting of fake accounts.
Twitter
General Reporting
If someone is bothering you, you can report an abusive user.
Report a Tweet
Hover over or open the Tweet you want to report. Select the 3 dots in the bottom right of the offending Tweet and select 'Report'.
Select the reason why you are reporting it.
Snapchat
General Reporting
Due to the 'disappearing' nature of Snapchat's images, you cannot report on an image. Instead, all paths lead back to their Safety and Abuse page.
You can also fill out a report here.
YouTube
General Reporting
Here is the form for reporting any kind of abuse on YouTube.
Report a Video
Open the video you want to report and select the 3 dots on the bottom right of the video. Click on 'Report'.
YouTube has subdivided many of their violations to guide you through why you are reporting the post. As you can guess, certain reports (i.e. child abuse) would take precedence over others.
Report a user for a comment
If you have comments you don't like, especially spam, you can remove them. If you want to report the user who posted it, then select the 3 dots on the right side of the comment and select 'Report Spam or Abuse' which will direct you to the reporting page.
LinkedIn
General Reporting
LinkedIn is not a dating site and yet there is a surprising number of people who report being harassed on the site. Some accounts could also be faked.
You can read LinkedIn's instructions on reporting inappropriate messages or head directly to their contact form for reporting all issues.
Report a Post
Hover over or select the post you want to report. Select the arrow in the top right and select "Report". Your options include both inappropriate content for this post as well reporting against the entire account.
Other Resources
For all cases, it may take time for the network to respond to your request.
If the issue you are facing is illegal or involves cyberbullying amongst kids, you can also contact the police and/or school. To better understand what constitutes cyberbullying, check out this post by an ex-police officer or check out the RCMP's Bullying and Cyberbullying resource page.
If you are a victim of revenge porn or have had intimate pictures posted of you online, check out these resources from the Cyber Civil Rights Initiative.
For links on the reporting pages of more networks, check out Cyberbullying.org.
Missing a network you'd like to see listed? Let us know.